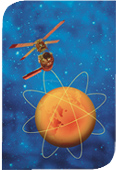 CONGRATULATIONS TO FAIR PARTICIPANTS!!
The complete list of 2016 award winners is available online from the Past Fairs link under the About Us tab.
The Montgomery County Science Fair, sponsored by ScienceMONTGOMERY, will be held March 11 -12, 2016 at the Food and Drug Administration White Oak Campus, 10903 New Hampshire Avenue, Silver Spring, MD 20993.
The Awards Ceremony for Fair Prize Winners will be held March 13, 2016 at Albert Einstein High School, 11135 Newport Mill Road, Kensington, MD 20895.
Maps and directions to both sites may be found under the ABOUT US tab above.
---
This County Area Science Fair is open to ALL in public, private, and home-schooled students, grades 6 through 12. Any student who lives in Montgomery County or who attends school in Montgomery County may enter the fair. School sponsorship is not required, but students must be sponsored by an adult scientist.
ScienceMONTGOMERY is a 501(c)(3) organization of dedicated community volunteers. We are entirely funded by leading science and education firms and organizations in Montgomery County and by individual donors. Fair organizers and judges are community volunteers, who donate the time and effort required to put on the Fair.
All projects must be registered on this internet site. Look under the "Students" tab above to find student registration guidelines, project rules and required submission forms. Projects may be submitted by Individuals or by Teams of two or three participants. If you are registering a team project, be sure to read the rules that apply to teams
Forms and other registration materials should be mailed to ScienceMONTGOMERY SRC/Dr. Johnson 4117 Barnsley Lane, Olney, MD 20832 or sent electronically to src@sciencemontgomery.org.
There is a non-refundable $10/student processing fee.
The deadline for RECEIPT of all forms and completion of registration is 8 PM, January 29, 2016 (see schedule below).
See our Policies page for policies that govern the fair.
Follow us on Twitter.
Questions? Email fairdirector@sciencemontgomery.org
Teachers, you can review and edit all of your school's students' information by logging on under the "TEACHERS" tab above. Email fairdirector@sciencemontgomery.org for your school's ID Code.
Category Judges for ScienceMONTGOMERY should register under the "CATEGORY JUDGES" tab above, where you will find judging criteria and other information about judging.
Community Awards Organizations' contact persons should register their organization under the "COMMUNITY AWARDS" tab above. Community Awards judging will take place from 9:30 AM to 5 PM on Saturday. Your organization's judges should register through your organization, NOT individually.
Potential Sponsors can find information about sponsorship levels and the Sponsorship Contribution Form under the "SPONSORS" tab above.
Combined Federal Campaign: We invite parents of students and friends of ScienceMONTGOMERY who are federal government employees to consider designating us (#19166) on their National Capital Area Combined Federal Campaign pledge cards. All proceeds are used to conduct the science fair, including cash awards to student winners.
The Press can find public relations materials and press releases through this link.
SPECIAL NOTE ABOUT ISEF:

This year we intend to broaden the field of projects considered by judges at the fair to win our grand prize, sponsorship for participating in the ISEF International Science and Engineering Fair. For the first time, projects that are not category winners will also be considered for the grand prize. ISEF judges will begin interviewing participants from the opening of the judging period and will no longer be limited in which projects they can consider for the award.

2016 Fair Schedule

---

October 20, 2015
Online registration begins. Each Project (individual or team) must be registered online at www.ScienceMONTGOMERY.org.
Click "Student" then "Register".

---

September, 2015 –March, 2016
ScienceMONTGOMERY 2015 information is available at www.ScienceMONTGOMERY.org. Questions should be emailed to fairdirector@sciencemontgomery.org or to src@sciencemontgomery.org

---

Friday, January 29, 2016

Deadline for receipt of ALL required documents and completing online registration. No projects may register after this date.

ALL documents (hard copy or electronic) must be RECEIVED by 8 PM at:

ScienceMONTGOMERY SRC/Dr. Johnson 4117 Barnsley Lane, Olney, MD 20832

or sent electronically to src@sciencemontgomery.org.




---

February 4, 2016
Scientific Review Committee (SRC) review results will be posted online. Results are accessible with the student passwords obtained when registering online and in emails to the project contact person. Schools also may apply for a password so a teacher can see all projects entered from their school.

---

February 4 – February 19, 2016

Corrections and additions must be supplied as required by SRC review results. All final documents are due, and must be RECEIVED by 8 PM February 19, 2016

at:

ScienceMONTGOMERY SRC/Dr. Johnson 4117 Barnsley Lane, Olney, MD 20832

or sent electronically to src@sciencemontgomery.org.

---
Note: Deadlines given above are NOT POSTMARK DATES. Documents must be RECEIVED by the times given. There is no longer a MCPS Pony drop-off location for receipt of Science Fair documents. All documents must be delivered to the address above or submitted electronically
We regret that projects missing required documents at 8 PM, February 19, 2016 will be not permitted to participate at ScienceMONTGOMERY 2016.
Note Fair Location!
Food and Drug Administration White Oak Campus,
10903 New Hampshire Ave., Silver Spring, MD 20993
map and directions
---

Friday, March 11, 2016

4 PM - 9 PM

Student Project Set Up and Safety Check: Set-up display boards and go through Safety Inspection at the FDA

Mentors, teachers, family members and friends of Fair Participants are invited to view the projects any time Friday evening until 9 PM. Please note: ScienceMONTGOMERY does not hold an Open House for general members of the public.

---

Saturday, March 12, 2016
Only Fair Participants, Judges and Official Fair Volunteers may enter the Fair Venue until 4 PM (or whenever judging is completed).
9:30 AM - 12:15 PM
Judging Preview Period (no students present)
12:15 PM - 1 PM
Students admitted
1 PM – 4 PM

Student Interviews with Judges (all grades together)

Until 4 PM (or whenever judging is completed)

4 PM – 5 PM
Project take down. All projects must be dismantled and removed by 5 PM; Projects not removed by 5:00 PM will be discarded.

---

Sunday, March 13, 2016

2 PM - 4 PM

Awards Ceremony

Albert Einstein High School
1135 Newport Mill Rd.,
Kensington, MD 20895


---